Access performance reports from up to 4 leading Forex Fund Managers
Here you can compare leading managed currency providers
We will provide you with performance reports of managed FX providers
Performance Reports are completely free and there is no obligation to make a deposit
Complete just one form to receive multiple performance reports
It takes less than a minute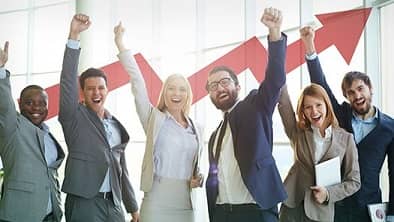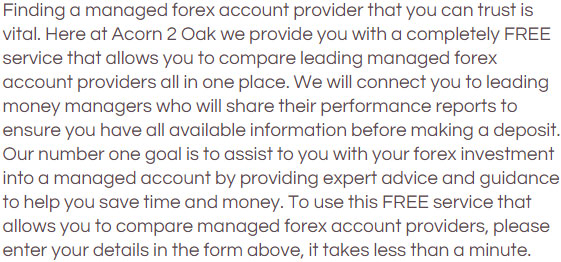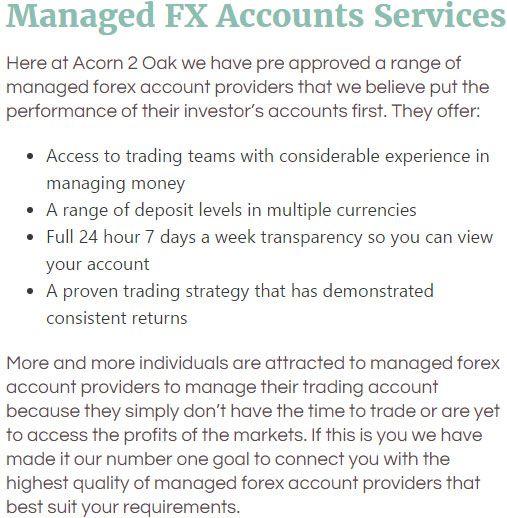 Benefits Of Our Service
Be a Smart Investor
We provide instant access to performance reports of managed FX providers
Invest Safely
We only deal with regulated providers
Save Money
Make a smarter forex investment and save money by choosing the best provider for you
Are you a managed FX provider looking for investors?
Testimonial
"Acorn 2 Oak connected me with a leading provider that had the consistent returns I was looking for. I would never have found them without using the free service at Acorn 2 Oak"
James
Latest News

Notice: Undefined variable: wp_query in /home/content/83/9929083/html/wp-content/plugins/php-code-for-posts/Classes/Shortcode.php(81) : eval()'d code on line 8

Notice: Undefined variable: paged in /home/content/83/9929083/html/wp-content/plugins/php-code-for-posts/Classes/Shortcode.php(81) : eval()'d code on line 9

Notice: Undefined variable: paged in /home/content/83/9929083/html/wp-content/plugins/php-code-for-posts/Classes/Shortcode.php(81) : eval()'d code on line 19

The Best Way to Invest 10,000 Pounds, Euros, Dollars

So you want to know the best thing to do with 10,000k pounds, euros or dollars
There are dozens of ways to invest 10,000 of any currency. The vast majority of them are the more traditional methods that will make you between 2% to 5%, safe but not very good returns. Of course these returns vary due to how the economy and other external forces are doing.
If you are interested in investing your 10k in these traditional investments, this article is not for you. This article is for you if you are keen to invest your money in a much, much higher return investment.
This website is about the foreign currency market and primarily managed forex accounts, which you can read more about on our guide. The potential to make huge amounts of money in this marketplace is phenomenal.
With this investment, a management company does all of the administration for you and a professional trader does all of the trading on your behalf. Now 2017, more and more investors are using this type of alternative investment to either, in the short term, supplement their income on a monthly basis, or long term, leave their profits to compound in the account to create a great deal of money. Yet, the vast majority of people haven't even heard of its existence.
Why Invest Your 10,000 in the Forex Market?
The forex marketplace is the largest financial market in the world by far. Every day, in excess of $5,000,000,000,000 that's FIVE TRILLION dollars is traded. When you consider that the New York stock exchange trades $50,000,000,000 (fifty billion dollars) daily, then you realise just how big it is. 100 times larger in fact.
One of the best things about investing 10,000 in a managed fund, apart from being a way to invest into the massive foreign currency market reserves, is the fact that they are…… run by someone else. This means that you will not have to learn the ins and outs of foreign currency trading, which can take months at least, usually years.
In fact, traders never stop learning and refining their strategies. On top of all of the knowledge and mental attitude that you have to acquire to become a successful trader, most traders spend many, many hours glued to their terminal, scrutinizing charts, analysing and waiting for signals that will signal the start of their next trade.
Investing 10k in 2017 in the long term, could be turned into almost 500,000 in by 2022. See our interactive compound interest calculator below. This is based on a 10% average monthly profit and performance fees are 35%.
You can enter your own numbers into the compound calculator and have a play around to see what comes up.
Your own due diligence must be performed on any fund that you want to invest your $10,000 dollars in. You can find out the due diligence that I perform here http://www.acorn2oak-fx.com/managedforexaccounts/duediligence.html
Many accounts will produce returns of 10% per month but they vary wildly. Some funds that require in excess of $1,000,000 dollars to open, can produce returns of hundreds of percent. These accounts are exclusive can normally only be opened by someone if they are invited to join.
The fees that the managers charge vary between 25% to 50% typically. It is in the interest of the traders to make as much money for the investor as possible because that means that they make more money for themselves.
What to do with 10000 savings? Sure beats investing in a deposit account!
Investors, individuals and corporates actually open their own accounts with the brokerage that the traders use. This means that the fund is in the investor's own name and cannot be accessed by the trader, apart from being able to place the trades and deduct their performance fees.
To be able to place trades and deduct fees, they will have been issued a limited power of attorney (LPOA) by the investor. Funds can be withdrawn without charge, and further funds can be added when the investor desires.
Once you have opened and funded your account, you will be able to download the trading platform, normally MT4, onto your computer. This will enable you to check your account at any time. You will see all of the trades that have taken place. You can download the trades onto your computer.
Conclusion
Investors that are looking to find the best way to invest 10,000 pounds in 2017, soon 2018, should take a look at a managed forex account. It is an ideal instrument to accumulate wealth in the long term because of the effect of compounding of profits that start to climb rapidly the longer that profits are left in the account.
Retired folk, pensioners and people that need a regular income will find it a great short term income generator investment since funds can be taken out as a part of their regular cash flow. The priority of traders is to look after depositor's wealth so an administered forex fund. You should really look for managed accounts that are regulated and audited carefully. Investors have control over their accounts.