Free customised quotes from up to 4 leading Managed FX Account Providers
Here you can compare leading managed FX providers
We can help you find a managed FX provider to suit your requirements
Quotes are completely free and there is no obligation to make a deposit
Complete just one form to receive multiple quotes / performance reports
It takes less than a minute
Home
– Solidary Markets FX Review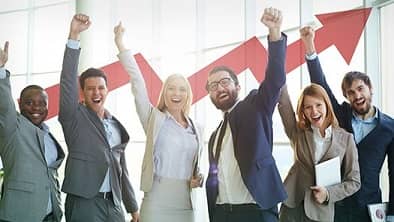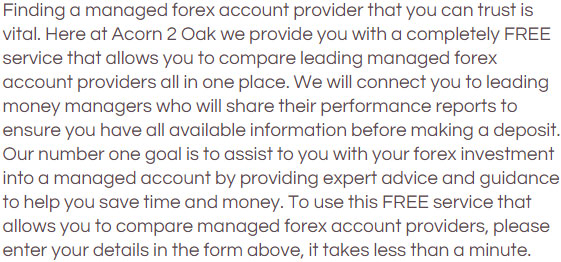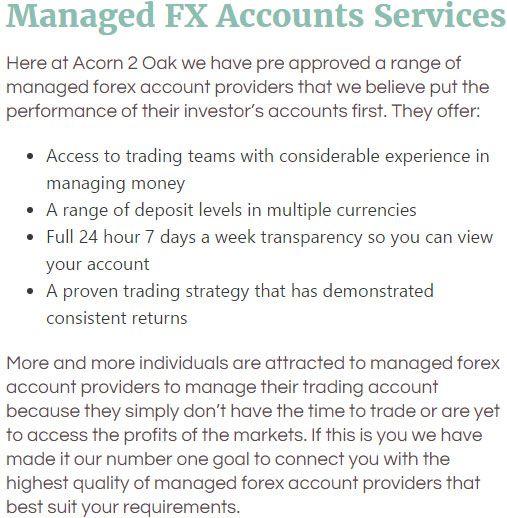 Benefits Of Our Service
Be a Smart Investor
We provide expert advice to help you make a smart managed FX investment choice
Invest Safely
We only deal with the most reliable managed FX providers, you're in safe hands
Save Money
Make a smarter forex investment and save money by choosing the best provider for you
Are you a managed forex account provider looking for investors?
Testimonial
"Acorn 2 Oak connected me with a leading managed forex account provider that had the consistent returns I was looking for. I would never have found them without using the free service at Acorn 2 Oak"
James
Latest Managed Forex Accounts News

Notice: Undefined variable: wp_query in /home/content/83/9929083/html/wp-content/plugins/php-code-for-posts/Classes/Shortcode.php(81) : eval()'d code on line 8

Notice: Undefined variable: paged in /home/content/83/9929083/html/wp-content/plugins/php-code-for-posts/Classes/Shortcode.php(81) : eval()'d code on line 9

Notice: Undefined variable: paged in /home/content/83/9929083/html/wp-content/plugins/php-code-for-posts/Classes/Shortcode.php(81) : eval()'d code on line 19

Solidary Markets FX Review
5th January 2016

Unfortunately I had to pull out of this fund in order to protect some of my investment. I may revisit this company in the future but at the moment, I am biding my time and not rushing it.

I am looking at this one though – Wealthified which has great returns over 2 years.
My Previous Reviews
18th April 2014
I just want to update you with the latest news. If you check my Myfxbook chart below, you will notice a floating drawdown. It means that I have some trades open that are losing money. They are still open and I haven't lost the money, it just means that if I closed the trades now, I would lose the money. They have every chance of coming good. They have been like that for a while.
Things have changed a lot however.
Solidary Markets have a number of individual managed forex accounts that use different systems to trade. I picked the Silver account that was doing well at the time. Unfortunately for me, for some reason, the trader left and my account was "overlooked" and hence the floating drawdowns began.
Since the trader left, the "Silver" account has been closed and my funds have been transferred into another account which is a basket of all the other accounts. I wish I had started this before. In about one month since my funds were transferred over, they have done really well, making about 13% profit. Unfortunately, the trades from the Silver account are dragging the account down, but they will go eventually.
The beauty of a basket of accounts is that the risk is spread and there won't be any drawdowns like the one I had with the Silver account.
I have been very impressed with Solidary Markets. I am keen on the fact that they are for the likes of you and I. They are not simply after your money and run. I also like the way that they managed the way that the Silver account had gone into drawdown and how they are now managing the trades. I believe that they will generate good results in the near future for me.
—————————————————————
Acorn2oak-fx managed forex accounts gets a lot of interest, not only from future investors searching for alternative investments, but also from the companies that actually manage forex accounts for investors. A lot of them are interested in me performing a review of their accounts. I wish that I could do a review of all of those accounts, and I hope to do so eventually. However, it takes a lot of money to do it. Most companies have a start-up minimum capital investment of ten thousand dollars. This is out of my reach at the moment given all of the managed forex companies out there, and new ones starting all of the time.
High Profit – Low Minimum –>Just Take A Look
As far as I know, Acorn2oak-fx is the only independent review site of managed forex accounts. I have to invest in the accounts so that I can carry out a proper review. How else can I do reviews otherwise?
In October 2013 I had an email from a trader that invited me to join his account and conduct a review. I checked this one out and I was taken by surprise by the level of performance that had been achieved, stunned really. 75% in 4 months. I looked further into it and I was even more surprised that it only took one thousand Euros to open an account.
So, after my due diligence, without further ado, I opened an account and put 1,000 Euros in to it. I set up a myfxbook link so that everyone can see how my account is performing, as you can see to the left. If you click on the chart, you will find out more information. This is so new that I haven't had a chance to review it properly but that will be coming soon. Please bookmark and return for further progress and also leave your name and email address when more info becomes available.