Free customised quotes from up to 4 leading Managed FX Account Providers
Here you can compare leading managed FX providers
We can help you find a managed FX provider to suit your requirements
Quotes are completely free and there is no obligation to make a deposit
Complete just one form to receive multiple quotes / performance reports
It takes less than a minute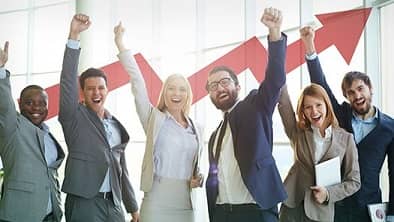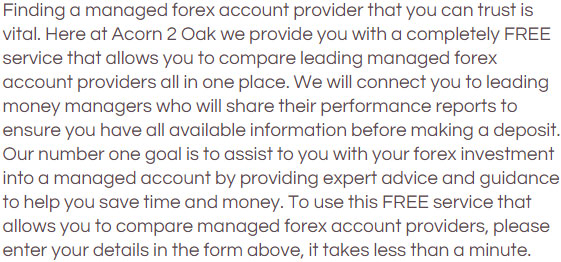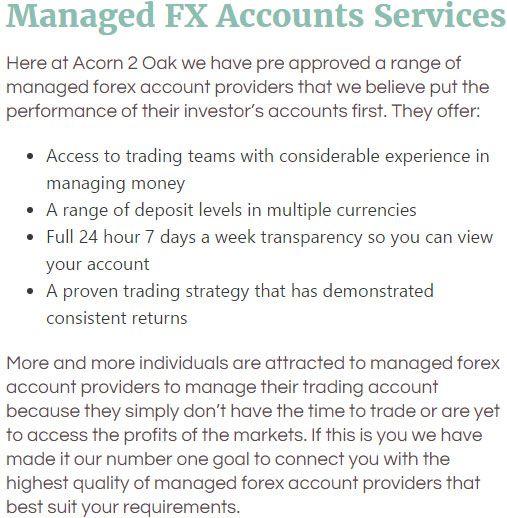 Benefits Of Our Service
Be a Smart Investor
We provide expert advice to help you make a smart managed FX investment choice
Invest Safely
We only deal with the most reliable managed FX providers, you're in safe hands
Save Money
Make a smarter forex investment and save money by choosing the best provider for you
Are you a managed forex account provider looking for investors?
Testimonial
"Acorn 2 Oak connected me with a leading managed forex account provider that had the consistent returns I was looking for. I would never have found them without using the free service at Acorn 2 Oak"
James
Latest Managed Forex Accounts News

Notice: Undefined variable: wp_query in /home/content/83/9929083/html/wp-content/plugins/php-code-for-posts/Classes/Shortcode.php(81) : eval()'d code on line 8

Notice: Undefined variable: paged in /home/content/83/9929083/html/wp-content/plugins/php-code-for-posts/Classes/Shortcode.php(81) : eval()'d code on line 9

Notice: Undefined variable: paged in /home/content/83/9929083/html/wp-content/plugins/php-code-for-posts/Classes/Shortcode.php(81) : eval()'d code on line 19

The Main Points Of A Managed Forex Trading Account Run By Professional Traders

Individuals, and companies, that are keen to invest their money into a managed forex trading account can anticipate significant returns on their investment.
It has to be said at this point that rigorous due diligence MUST be carried out before investing in the account of choice.
Apart from due diligence, there are many things the investor ought to know. Questions and concerns should be raised and the responses considered before investing your hard earned money. I have made a list of the main points of a managed forex trading account so I hope that you find it useful.
The top priority for any account manager is to protect investors' money. It's fantastic to make a great deal of money but you definitely want to retain the amount that you put in originally. The way that accounts are protected is by way of a maximum drawdown limit which varies from company to company. If an account has a drawdown limit of 15% and the account drops by 15%, the manager will either ask you if you want to carry on or maybe it will stop trading automatically. Some accounts have ways to hedge the trades to avoid any further loss. Some accounts have a stop loss on individual trades, for example 2%. The trade will stop automatically if it drops by 2%. The individual's aversion to risk will determine the drawdown limit and which account they choose.
Managed accounts are the ideal solution for investors that want to participate in the forex market and reap the benefits, but don't have the time or the inclination to learn how to trade and study charts all day waiting for the opportune moment to place the trades. The attraction to many individuals is that it is a hands off alternative investment which means they don't have to think about it leaving them free to pursue other interests.
The management team make their money by charging a performance fee to the investor. These fees vary quite a lot from typically 25% up to 50%. Performance fees are a percentage of the profits that the investor makes. There is a high water mark which means that if the account falls below that highest level the account has reached, no performance fees will be charged until the account rises above that high water mark again.
Some companies charge a management fee. A management fee is not the same as performance fees. Some management fees are to be paid on an annual basis and some are a one time start-up fee. They are not high normally and an average fee would be in the region of 2% of the deposit amount.
The trading account is in the name of the individual or the company and not the managed account company's name. This means that the investor has complete control over the account. They can add to or withdraw funds, or close the account when they wish. There are no fees to withdraw money.
The only access that the trading company will have to the investors account is to manage the trades and to deduct their performance fees. They can do this because the account holder issues them with an LPOA (Limited Power Of Attorney). This means that the brokerage will allow the traders limited access to place trades and deduct performance fees ONLY.
Once the investor has sent in identification to the brokers and they have been accepted, they will be able to download the trading platform that the brokers use. They will not be able to place any trades or affect trading in any way because the platform will be in read only mode. However they will be able to see any trades that are currently active, see trading history and account balances and download the trading statement onto their computer for closer inspection.
The typical minimum account opening amount is $10,000 dollars. A few will accept a lesser amount and some will require hundreds of thousands, or millions of dollars in some cases to open. The high starting amount accounts are normally available by invitation only and they can produce truly amazing returns.
A well renowned, reliable managed forex trading company will generate extraordinary returns on investment so they are a great alternative investment vehicle to include in anybody's diverse portfolio.
Retired folk and pensioners are two types of investors that can benefit greatly from a managed fund because they can draw out profits as part of their monthly cash flow. This is a fantastic income stream for them. However, to appreciate the greatest benefit that the account can offer, funds should be left to accumulate and compound on themselves. Einstein once described compound interest "the 8th wonder of the world" and "the greatest mathematical discovery of all time".
Credit card companies use compound interest against us so you will understand how powerful it is. Why not turn that around for our own benefit and make a fortune?